PROCESS & PROGRESS exhibition re-opened and extended
Artists of the Jonathan Vickers Fine Art Award
I am delighted that the Process & Progress exhibition at The Museum and Art Gallery, Derby has re-opened and is now extended until 30th August 2020.
"Explore the making process and progression of a series of artists who have all won the Jonathan Vickers Fine Art Award over the last 19 years: Lewis Noble, Kerry Harker, Helena Ben-Zenou, Natalie Dowse, Bartholomew Beal, Kerri Pratt and Eleanor May Watson. The exhibition shows work from the artists' residencies in Derbyshire alongside some of their work today and explores their different creative journeys since then. The artists' exploration of the Derbyshire landscape and people gives the work on display a sense of place. The Vickers Award is one of the most prestigious art competitions in the country and receives international recognition."
Four of my Crocodile Tears paintings are exhibited alongside the 'Heights of Abraham' and 'Heaven's Above!' – two of the three paintings of mine that are in the permanent Jonathan Vickers Fine Art Collection. I am also honoured that my painting 'Between Dog and Wolf 2' is on show in the Joseph Wright of Derby gallery at the Museum.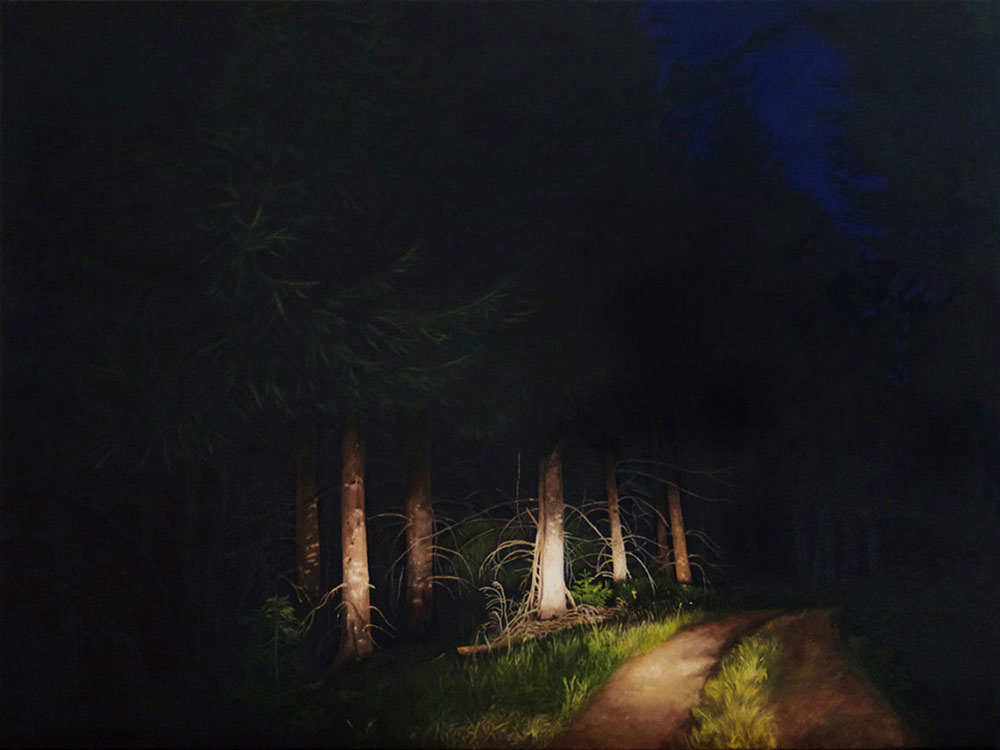 'Between Dog and Wolf' is from the French saying 'Entre chien et loup' that refers to dusk, just before nightfall, when the light is so low that it would be difficult to distinguish between dog and a wolf. However, it also lyrically describes the limit between the familiar and the unfamiliar, the known versus the uncanny and comfort versus danger. It is a nebulous threshold between hope and fear.
If you cannot make it to the exhibition you can see a fabulous virtual tour here:
The Museum and Art Gallery, The Strand, Derby, DE1 1BS
Extended to 30 August 2020
Opening times: Monday Closed. Tuesday-Saturday 10am – 5pm & Sunday 12noon – 4pm
Free admission.
Social distancing measures will be in place.

Website: https://www.derbymuseums.org